Sunday School is held on Sunday mornings, September through May from 10:00 a.m. – 11:15 a.m. All children age 3 through 6th grade are welcome to be part of Sunday School!
Pictures from Sunday School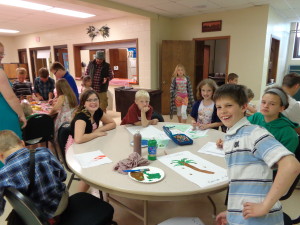 Sunday School & Adult Study at Grace Lutheran Church
SUNDAY SCHOOL WISH LIST FOR 2017-2018

Please prayerfully consider what role you could fill to be part of our Sunday School program! Everyone has a gift; we invite you to share yours with our children. Please call the church office at 325-9172 to volunteer, to ask more questions, or to offer your support. Thank you!
* Substitutes and helpers
* Birthday message card sender
– Send out Birthday cards each month to kids – make them feel important that we acknowledge their special day
* Thank you note sender
– Send out a thank you note to parents thanking them for bringing their child to Sunday School – Make parent connection so they know they and their child are important to us
* We miss you card sender
– Keep track of attendance and send a card after 4 missed days to let them know we miss them
* Offering counter and update mission chart
– Count offering each Sunday
* Skits
– a few skits will be done during the opening throughout the year need volunteers
* Special speakers
– If there is someone who has something that would be great to share with the children (mission trip they participated in, etc.)
* Musical guests for the children to sing with
* Children's sermons
(approximately 5 times) during opening time to go along with the lesson for the day this will be a few times throughout the year (we have books for volunteer to use at church)
* Social event planning group
– Plan events for families to get together outside of church – service projects, fun events, Bible exploration nights, etc. (Amanda, Katie and Jenn – maybe others)
* Decorating classrooms
with Bible story posters – we have plenty from VBS years and Sunday School in the past
* Christmas Program
* Children's Activity Bags
– Clean and upkeep of the bags in the narthex
* Adult Sunday School class – Sunday mornings